Latest News and COVID-19 Updates from Broxtowe Borough Council
Broxtowe Borough Council sent this bulletin at 21-01-2022 04:03 PM GMT
In this newsletter:
Remembering Councillor Joan Briggs

Additional Restrictions Grant Applications Now Open

Countdown on to Beeston's first Light Night

Broxtowe Borough Council Reflects On Holocaust At Annual Memorial Event

COVID-19 Updates
Other News
Remembering Councillor Joan Briggs
The Mayor of Broxtowe was joined by current and former Councillors earlier today (21 January), as they unveiled a special plaque to celebrate the life of Councillor Briggs who passed away in June 2021. An English Oak tree was planted in her memory at Cator Lane Recreation Ground in Chilwell.
Additional Restrictions Grant Applications Now Open
The Government have provided the Council with a sum of money for distribution through an Additional Restrictions Grant (ARG), to other businesses that may have been affected due to the rise of the Omicron variant, but are not eligible for Omicron Hospitality and Leisure Grant support.
The funds provided to the Council are limited and are significantly lower than previous allocations. Therefore, the Council have had to make tough decisions on which sectors to prioritise.
Details of our scheme:
You must have been trading on 30th December 2021 and continuing to trade
Not in liquidation/dissolved/struck off
The recipient must not have received funding in excess of the current subsidy control limits
Businesses that qualify for the Omicron Hospitality and Leisure Grant will be disqualified from receiving the ARG
Involved directly, or as part of the supply chain, in the following sectors:
Boarding Kennels/Catteries
Businesses in the Hospitality, Leisure and accommodation sectors
Businesses in the Personal Care sector where they have 2 or more employees
Businesses supporting the Hospitality, Leisure and accommodation sectors
Tour operators
Countdown on to Beeston's first Light Night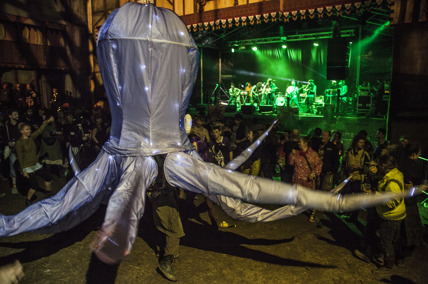 With just over one week to go until Beeston's first Light Night event a packed programme of activities is in place.
From fire spinning and samba bands to neon artwork and light-up sea creatures, the streets of Beeston will be full of colour and music next Saturday.
Designed to bring a touch of sparkle to the town during the long winter months, the event will also see the unveiling of a brand new piece of artwork – a neon sign at the tram interchange which reads '#AlightinBeeston"
Broxtowe Borough Council Reflects On Holocaust At Annual Memorial Event

The Broxtowe Community will stand together at a short ceremony to mark the Holocaust Memorial Day on Thursday 27th January which will take place in the Walled Garden at Bramcote Hills Park at 11.00am.
Mayor of the Borough of Broxtowe, Councillor Richard MacRae will join Councillor Jan Goold, in delivering readings to reflect the theme of this year's event, 'One Day', along with some students from Alderman White School singing the songs 'One Day' and 'Something (Inside) So Strong' to show the hope that there may be One Day in the future with no genocide.
COVID-19 Updates
COVID-19: Plan B restrictions to end
On Wednesday 19th January, the government announced changes to restrictions put in place in response to the spread of the Omicron variant.
The new changes are:
Workers are no longer required to work from home if they can.
From 27th January, there is no longer a legal requirement to wear a face covering. People are still advised to wear one in crowded and indoor spaces where they may come into contact with people they do not normally meet.
From 27th January, venues and events are no longer required by law to check visitors' NHS COVID Pass. They can still choose to use the NHS COVID Pass on a voluntary basis.
COVID-19 Vaccination Bus in Beeston
The COVID-19 Vaccination Bus will be back in Beeston on Friday 28th January.
The clinic will run 10.00am – 12.30pm at Devonshire Avenue car park and 1.00pm – 4.00pm at Beeston Fields Recreation Ground.
First, second jab and boosters will be available for those 18 and over. There's no need to book, just turn up.
Community COVID-19 test sites open in Broxtowe next week
There will be LFT community testing sites open across Broxtowe next week. These free tests are for those who do not currently have any COVID-19 symptoms and the locations and times of testing are as follows:
Walter Parker Memorial Square, Stapleford
Monday 24th January 2022, 9am-3.30pm
Friday 28th January 2022, 9am-3.30pm
Newdigate Street Car Park, Kimberley
Friday 28th January 2022, 9am-3.30pm
Ikea (outside Boots) Giltbrook Retail Park
Saturday 29th January 2022, 9am-3.30pm
You do not need to book – just turn up.
Other News
77,000 litres of water and 17 tonnes of carbon saved by Broxtowe residents using Green Rewards
By signing up to Broxtowe Borough Council's Green Rewards incentive, making a big difference through small changes is easier than you think. Hundreds of Broxtowe users are already playing their part in tackling climate change, so why not join them by signing up today?
How have Broxtowe users already made a difference?
Through participating in Green Rewards and carrying out a total of 5,000 green actions users have saved:
17 tonnes of carbon
77,000 litres of water
5 tonnes of residual waste
1603 single use items
Beeston and Stapleford Markets open again
Our Beeston and Stapleford markets had their first opening week of the year this week, and are thoroughly enjoying welcoming back Broxtowe residents.
The Beeston Market is open every Monday and Wednesday between 9am and 3pm.
The Stapleford Market is open every Thursday between 8am and 2pm.
Baby and toddler swimming classes at Bramcote Leisure Centre
Bramcote Leisure Centre is happy to announce that they have opened baby and toddler swimming classes for parents and their children.
With these lessons, parents can ensure their children are safe in the water, increase water confidence and get them ready for the pool this summer. Sessions led by LLeisure instructors allow you and your child to learn to swim together through play in a warm pool and a safe environment.
Support Available
Self-isolating
If you develop symptoms of COVID-19, stay at home and self-isolate immediately. If you have a positive test result but do not have symptoms, stay at home and self-isolate as soon as you receive the results.
Support to get essential supplies
If you are vulnerable and need help to get food, medicine or community support, please get in touch with the Nottinghamshire Community Support Hub www.nottinghamshire.gov.uk/coronaviruscommunityhub or call 0300 500 80 80
Financial support
In some circumstances, if you are required by law to self-isolate, you may be supported by a payment of £500, payable from Broxtowe Borough Council. Find out more about this scheme and other financial support at www.broxtowe.gov.uk/testandtracepayment or call 0115 917 7777
Mental health
The impact of the pandemic on you and your loved ones and not being able to enjoy all of the activities you would normally be involved in can all have an impact on your health. It is important to remember to look after yourself. Useful resources to support you, your family and friends can be found at www.broxtowe.gov.uk/wellbeing or call the Nottinghamshire Mental Health Helpline between 9.00am and 1.00pm, seven days a week on 0300 555 0730.
Accessing NHS services
If you have symptoms or a health concern you are worried about, please contact your GP practice. GP practices are still open and here for you. When you call your practice, you may be offered a consultation online or over the phone. If they feel they need to see you in person, they will invite you in for a face to face appointment. Read more for guidance at https://nottsccg.nhs.uk/covid-19/gp-appointment-guidance/
Staying up to date
The easiest way to stay up to date is by checking our dedicated Coronavirus webpages.
They contain useful information on:
We also share daily updates on our social media accounts and will be sending you this email bulletin every Friday.