As part of the winter tree planting programme the gardeners at Broxtowe Borough Council have been busy planting trees along an old hedgerow at Leyton Crescent Recreation Ground in Beeston. The trees include Oak, Field Maple and of particular importance a number of disease resistant Elms.
Once a common sight very few Elm trees remain, as through the 1970's Dutch Elm Disease swept across the United Kingdom, killing an estimate 25 million trees. This was particularly bad news for the White Letter Hairstreak, a butterfly whose caterpillars feed exclusively on Elm and their population now stands at just 3% of what it was before the disease arrived. Since then horticulturalists have looked to find resistant elms to replace those lost and a number of varieties have now been identified.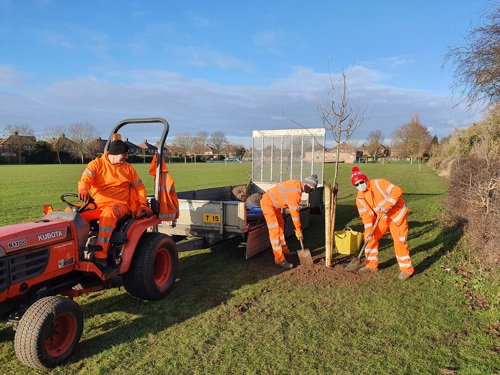 It is hoped that as they grow the trees will provide a home for this endangered butterfly, whilst helping to capture carbon from the atmosphere and create a habitat for many other species. In autumn the strip of grass along the hedgerow will be planted with native bulbs and wildflowers to further improve habitat for wildlife.
The work is part of Broxtowe Borough Council's Green Futures programme, aiming to reduce carbon and increase biodiversity.
Councillor Helen Skinner, Chair of the Climate Change Committee said "Wherever we can we will look to encourage wildlife onto our parks and open spaces, sometimes it only requires small changes to be made to the way we look after things to have a positive impact for wildlife and always without detracting from the excellent facilities and recreation opportunities our sites provide for Borough residents"