08/12/20 – On Wednesday 2nd December, the Mayor of Broxtowe, Councillor Janet Patrick, joined the Parks and Green Spaces team to plant trees at Bramcote Hills Park.
The trees chosen were Betula utilis jacquemontii, a variety of Silver Birch with very vivid white stems that are striking and stand out from a distance. The trees will be under planted with Bluebells to create a blue and white effect linking to the NHS colours.
The 30 trees are planted 2m apart from each other in a grid layout, to mark the importance this distance has had in 2020.
Following COVID-secure safety measures at all times, the Mayor and the Parks team planted trees in a location in front of the Old Manor House. The trees will be cared for by the Parks team and the space will be a place for reflection for the community spirit shown by the people of Broxtowe.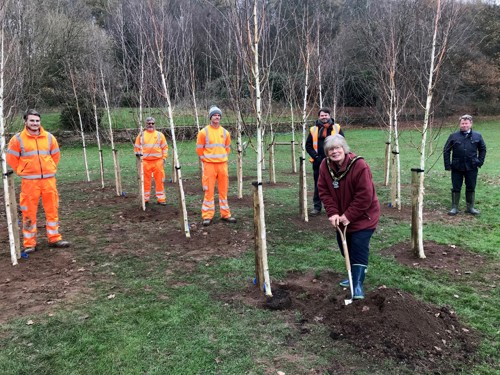 Councillor Janet Patrick, Mayor of Broxtowe said:
"This has been a challenging and heart-warming year, in equal measure. Some people have hit some very hard times and some have supported others and done amazing things for their community. These trees being planted aren't just good for the environment and will look lovely but will also serve as a reminder to us all what a year it has been and even in stressful and uneasy times, we can pull through, together, 2m apart. When the bluebells start to come out in the spring, this space will come to life and hopefully mark a new dawn in the fight against COVID-19".
This is event was organised to mark National Tree Week, the UK's largest annual tree celebration which marks the start of the winter tree planting season (November to March each year). This year, it took place 28th November – 6th December.
The Tree Council first established National Tree Week in March 1975 to support national replanting of trees after the outbreak of Dutch Elm disease. Each year, upward of a quarter of a million people don their boots and gloves and come together to plant trees. Though we may not be able to get together to plant trees as we usually would due to the pandemic, The Tree Council and local councils like Broxtowe Borough Council are still bringing people together to celebrate trees with a programme of arts and culture COVID-safe events.